---
---
---
HEALTHCARE
State Active Employees
Approved Medical Plan Designs
NJ DIRECT Member Guidebook for Plan Year 2020
NJDPB Horizon Plans compared for Plan Year 2020
Pecentage of Contribution Calculator for
Plan Year 2020
Certifying Officer Letter Re: NJ DIRECT Conversion -
Sep 2020
State NJ DIRECT/NJ DIRECT2019 FAQ
Retiree Medicare Advantage FAQ
Guide to Health Benefits in Retirement
---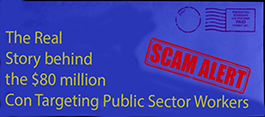 You may hear from representatives of certain anti-union groups who will try to trick you into giving up your rights and hurting your pay and benefits by dropping your union membership. It is important to be aware of this threat to organized labor and collective bargaining in the public sector, as this has direct implications for the wellbeing of our Union, and its capacity to represent all of our members with the strength we would like to possess. For the story behind the agendas of these groups, go to this link.
---
Invest in New Jersey:
Make Higher Education Affordable Again
- NJ Policy Perspective (PDF)
ALEC Exposed - Through ALEC, Global Corporations are Scheming to Rewrite YOUR Rights and Boost THEIR Revenue.

UnKoch my Campus - The Koch Brothers are investing millions of dollars across
the country to alter the course of higher Education.